Probetraining / Anmeldung auf der eigenen Webseite
Die Integration von Box-planner in die eigene Webseite für Probetrainings oder andere Termine ist einfach und auch für verschiedene Sprachen möglich.
Setup / Vorbereitung
Im System ist es nötig die Art der Stunde (Track) für die externe Integration freizuschalten. Dies geschieht über den Schalter "Public".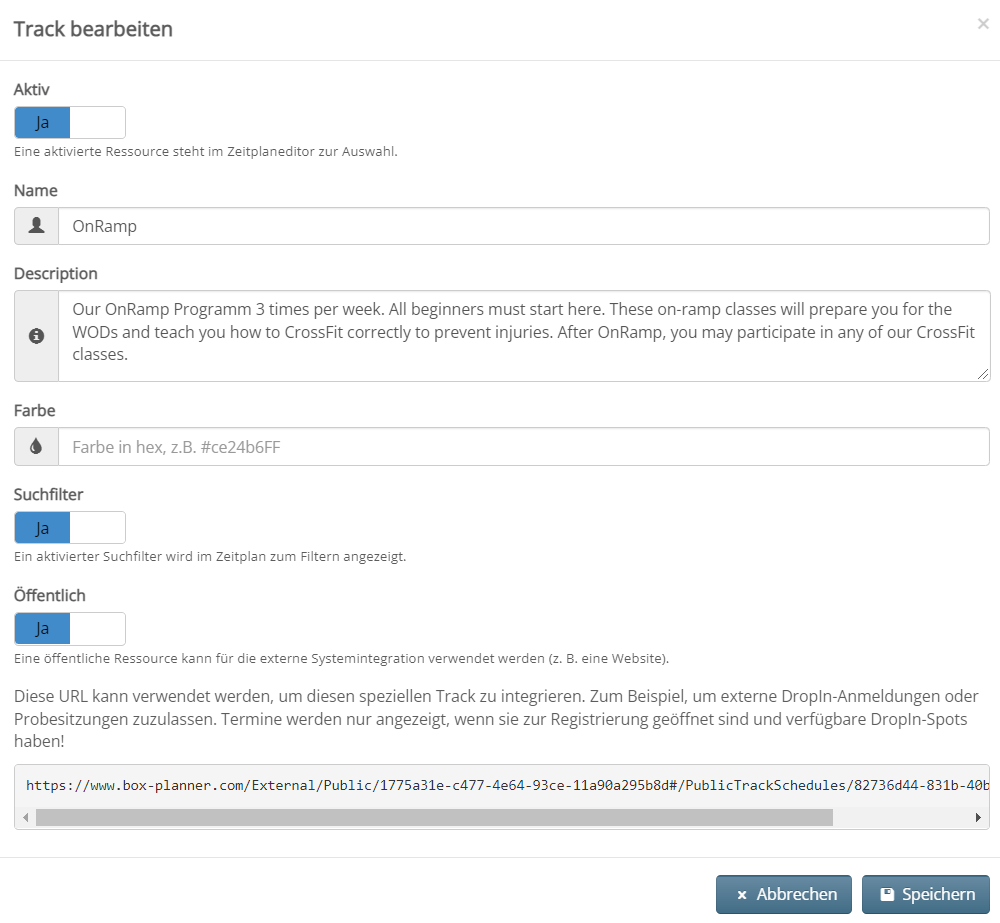 Nachdem der Schalter aktiviert wurde erscheint der Link für die Integration in der Webseite. Ein weiterer notwendiger Schritt ist es die Klassen für den entsprechenden Track für DropIns freizugeben.
Test
Nachdem der Track konfiguriert, Termine für DropIns freigegeben und die Termine zur Registrierung offen sind kann man den Integrationslink öffnen und bekommt alle Termine zur Auswahl. Nach Bestätigung eines Termins folgt dann ein einfaches Kontaktformular für den Nutzer.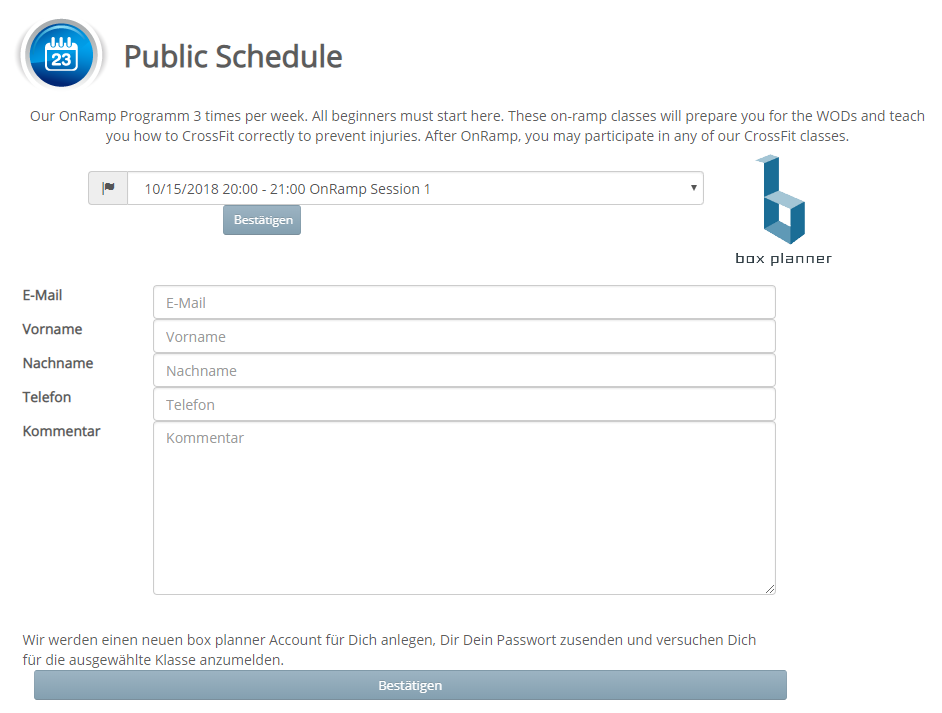 Die angezeigte Maske kann durch einfache Schalter in der URL angepasst werden.
URL/de -> Anzeigesprache auf Deutsch
URL/en -> Anzeigesprache auf Englisch
URL/de/true -> Anzeigesprache auf Deutsch und verstecken des Track Beschreibungstextes
URL/en/true -> Anzeigesprache auf Englisch und verstecken des Track Beschreibungstextes
Trial Sessions / Registration on your own website
The integration of Box-planner into your own website for trial trainings or other appointments is easy and also possible for different languages.
Setup / Preparation
In the system it is necessary to activate the type of hour (track) for external integration. This is done via the "Public" switch. After the switch is activated, the link for the website integration is shown.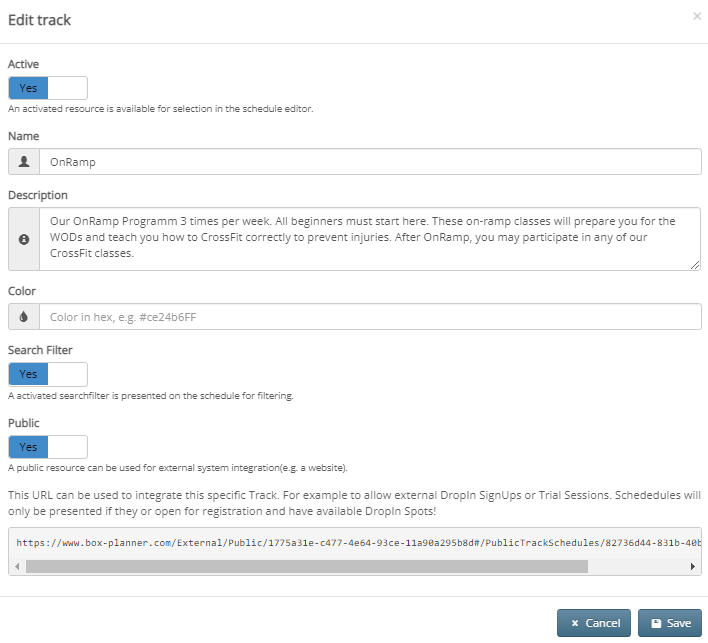 Another necessary step is to enable DropIns the classes of the corresponding track.
Test
After the track is configured, classes enabled for DropIns and the classes are open for registration, you can open the integration link and get all classes shown as selection. After confirming an appointment, a simple contact form for the user is presented.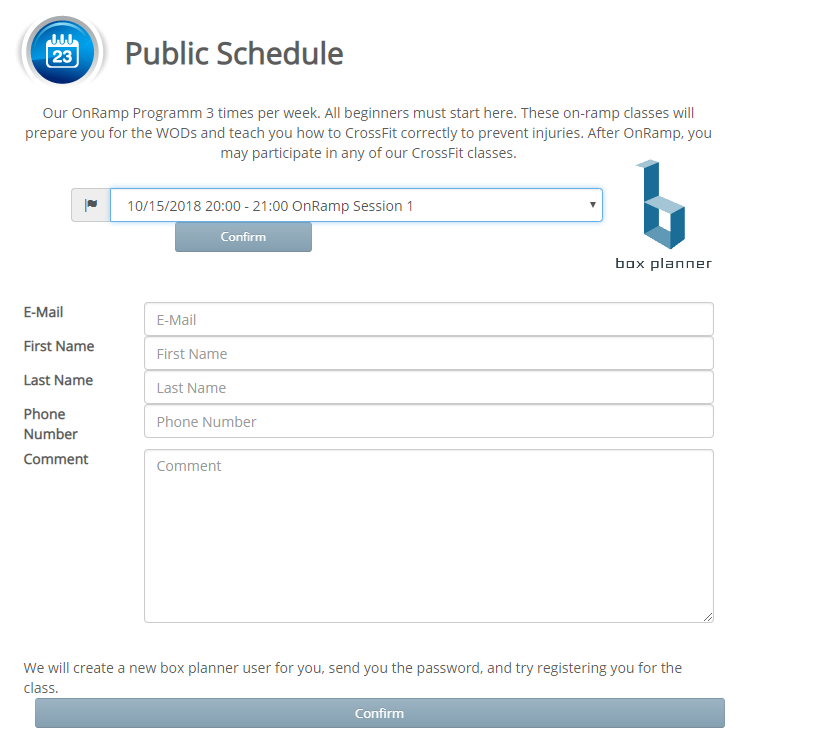 The displayed mask can be adjusted by simple switches in the URL.
URL/de -> Display language in German
URL/en -> Display language in English
URL/de/true -> Display language in German and hide the track description text
URL/en/true -> Display language in English and hide the track description text